How to set up a speaking event
An experienced comedian can immediately see where a room has been poorly set up.
The best speaking events happen when an audience feels at ease and connected to a speaker. That they are talking directly to them. This is why you have popular motivational speakers like Tony Robbins (pictured) walking through the audience.
Orchestra pits, high stages, church pulpits are ways of separating the speaker and the audience. If you're not planning on telling everyone they are damned for eternity, are fired or need to listen to a voice of authority who is above and unconnected to them, get your speakers as close to the front row as possible.
No lights, audience facing different directions, distraction of a gaming machine, backdrop too far from stage
Invest in a backdrop and 'stage furniture'. A banner with your or a sponsor's logo on it not only can bring in funding for the event but also creates a focus point for the audience to look at. Ideally the banner should be placed directly behind the speaker. If you have a projector screen and one of your speakers isn't using it, make sure you have a holding slide with their name. Also include the hashtags and social media handles for your event. Keep the slide as uncluttered and clean as possible.
Make the stage easy to understand.
Large stages are an issue, inexperienced speakers tend to pace up and down them looking uncomfortable. Simple things like placing a table for them to stand next to, a rug on the floor, or a lectern if they insist on using notes, will make them relax and the audience will engage with a confident speaker more than an awkward one. If you have lighting issues where only a small part of the stage is lit for the speaker - make sure they are aware of the limitations. You can even mark a spot on the floor with masking tape for them to stand on.
Be Tidy
If your projector has to be placed onstage make sure the cables look neat, the furniture it is on is clean and not damaged. The more care you show about an event the more people will respect the space and listen to the speakers you have booked. Simple touches like a tablecloth, a jug of water with matching glasses, a rug that the speaker is expected to stand on, some plants… balloons even… you really don't need to go crazy. All you want is that a stranger entering the room will immediately understand that something is about to happen, it is happening over there, and they better sit facing that way so they can best pay attention.
FOCUS
I would suggest using a decent lighting rig and making sure the windows are covered with blinds or curtains while the speaker is talking. Being seen is nearly as important as being heard.
Daylight ruins atmosphere
Bad lighting and no backdrop makes this room feel slapdash.
It's awful when clients assume the DJ's pa is fine (and the DJ won't mind). We comedians are obsessed with a certain type of audio set up. The bare basics we need is an SM58 with sufficient cable to stretch full length and width of the stage on an adjustable microphone stand. We need the volume to be so loud that the drunk at the back of the room doesn't have the option of talking to his mates on the table next to him - He HAS to listen to the act. Aforementioned volume delivered with clarity and zero feedback. The latter will almost certainly require the PA speakers to be mounted on stands either side of the performance area and situated forward of the front of the stage. This frames the stage rather well.
Of course this set up isn't always an option, but it is vital that you make sure that the speaker can be heard in every part of the room, that there is no feedback or reverb and that the microphone isn't cutting out.
If you insist on using wireless microphones: HAVE A FULLY CHARGED SPARE TO HAND CLOSE TO THE STAGE. I would say 1/3 of the time I have worked with wireless microphones they have died during a talk at one point in the evening. They gobble battery faster than you imagine. They are a fine option, but require diligence.
Where to place your stage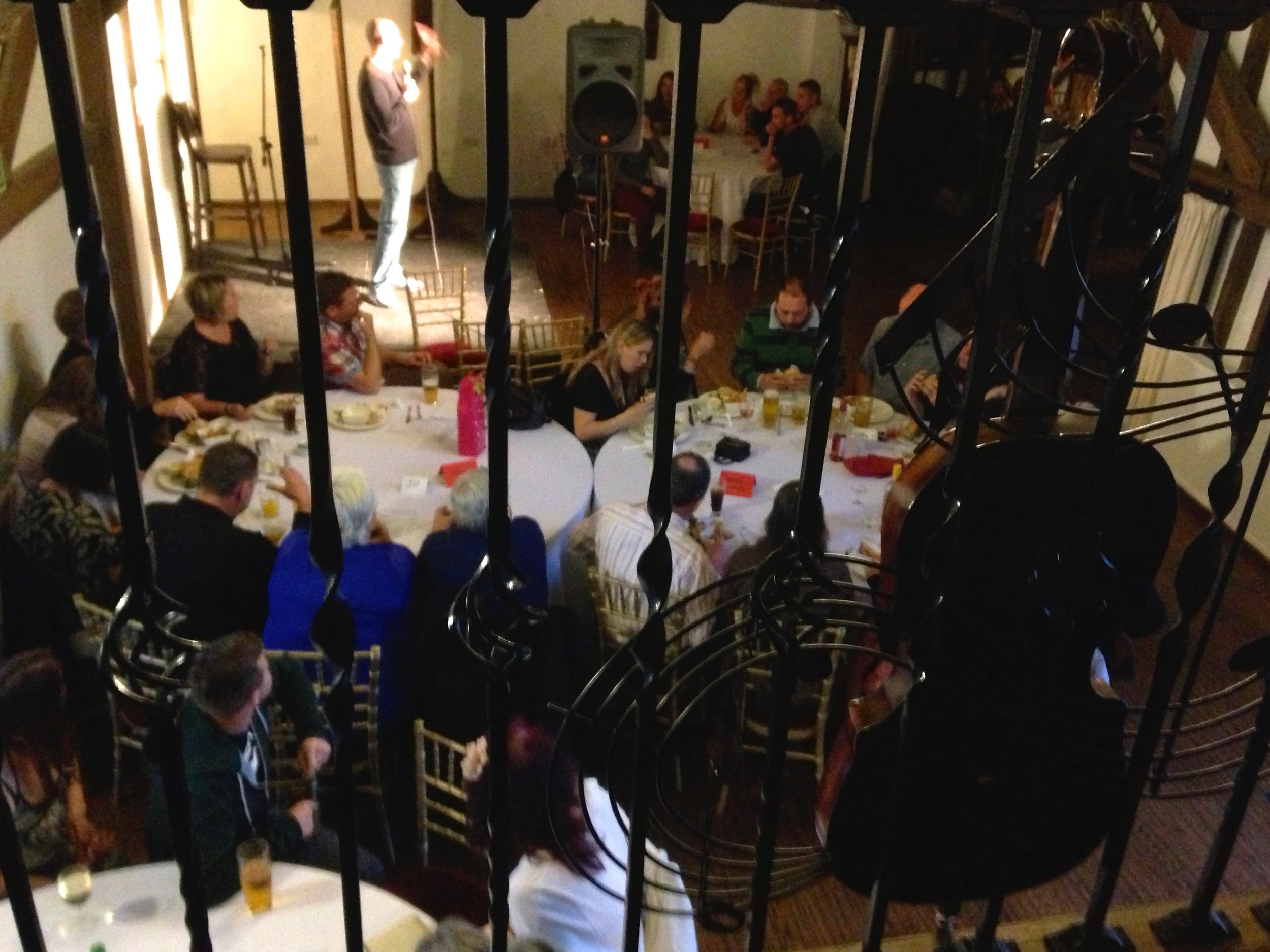 In smaller event spaces, or spaces not usually used for hosting events where to place your stage can be tricky.
You do not want people walking in front of the stage or a lot of activity going on either side of it. I have been to many events where the toilets are located at the side of the stage and the speaker has had focus drawn away from their talk because of embarrassed audience members needing to relieve themselves. For the same reason, if your event is catered or if you are expecting late comers you don't want the entrance to the event space or kitchen doors to be anywhere near the stage.
Sometimes this is unavoidable. If this is the case and your toilets are located near the stage or you do have staff needing to pass through, the main way to reduce the impact is to firstly have very good stage lighting where the room is blacked out and the stage is lit well, so things happening either side are barely noticeable and secondly to have regular breaks.
I normally advise a break to happen at least once an hour. If your toilets are located by your stage you need to have a break for the crowd to stretch their legs every 45 minutes. This could mean your speaker does a 40 minute talk and you hold a Q & A after the break, or if you are holding a comedy night you get your MC to keep it to a tight 10 at the top and have your opening act do 20 instead of 30 mins. Remember to keep the breaks SHORT. Don't ruin the atmosphere by having a 20 minute break for no reason when everyone can easily be back in their seats after 5-10mins.

This diagram is an excellent way to set up your room for speaking events. All comedians dislike large round tables because the audience is separated in groups, half face the wrong way and it isn't conducive to focussing on the stage. Speakers are not musicians. You can't 'dip in and out' or hold conversations without ruining their jokes, losing their meaning and disrupting people around you. This is why Theatre seating is perfect for ALL types of talks.